Skoda Enyaq iV Coupe er designet til at være en mere sporty version af Enyaq iV elbilen, og den vil officielt frigives ved en pressebegivenhed den 31. januar.
Mladá Boleslav, 11 January 2022 – ŠKODA AUTO is offering a preview of the new ŠKODA ENYAQ COUPÉ iV in official design sketches. The coupé variant of the all-electric ENYAQ iV has an even more emotive design and, thanks to its outstanding aerodynamics, boasts an even greater range than the SUV version. The sketches show the gently sloping roofline, the rear with a sharp tear-off edge and side skirts in the body colour. The world premiere of the ENYAQ COUPÉ iV is set for 31 January 2022 in the Czech capital of Prague.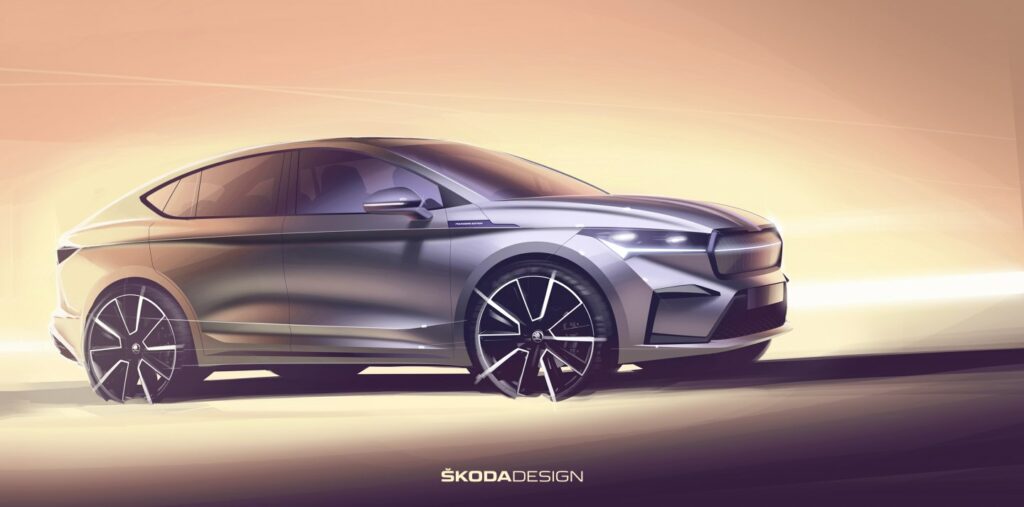 With the new ENYAQ COUPÉ iV, ŠKODA is adding a particularly emotive variant to its first all-electric model series based on the Volkswagen Group's Modular Electrification Toolkit (MEB). Side skirts painted in the body colour and large wheels give the new, four-door flagship model a powerful appearance. The redesigned roofline enhances the elegance of the ENYAQ COUPÉ iV. From the B-pillar, the roof slopes gently towards the rear and merges seamlessly with the tailgate. The rear styling is dominated by ŠKODA lettering in block capitals below a sharp tear-off edge and the brand's signature C-shaped rear lights.
– Skoda
Du kan finde mere information om Skoda Enyaq iV Coupe på Skodas hjemmeside via nedenstående link.
Læs også: Audi Q3 45 TFSIe S-Line Plus – Mini SUV med potentiale!
Kilde Skoda