Volkswagen har udgivet nye teaser-billeder af deres kommende Volkswagen Touareg, bilen er dog holdt camoufleret.
Den nye Tourag kommer med et baglogo, der lyser op og også de nye IQ.LIGHT HD matrix-forlygter med 38.400 mikro-LED'er, er en del af SUV'ens design.
The camouflaged new Touareg is still completing its final test miles in Swedish Lapland. Although the design modifications are still hidden under an oversized QR code wrap, the pictures of the disguised prototype already provide a concrete preview of the first technical details. At the front, for example, it is possible to see the newly developed IQ.LIGHT HD matrix headlights and the elements of an also new LED light strip integrated between them.
Læs også: Head-Up Display; Hvad er det, og hvad kan det?
Volkswagen has further developed the chassis of the always all-wheel drive Touareg. Among other things, a roof load sensor is now used, which is networked with the chassis electronics. The advantage: increased agility when the roof is not loaded. If, on the other hand, a roof box is installed, the sensor recognizes this and passes this information on to assistance systems such as the ESC. This increases the driving stability of the Touareg.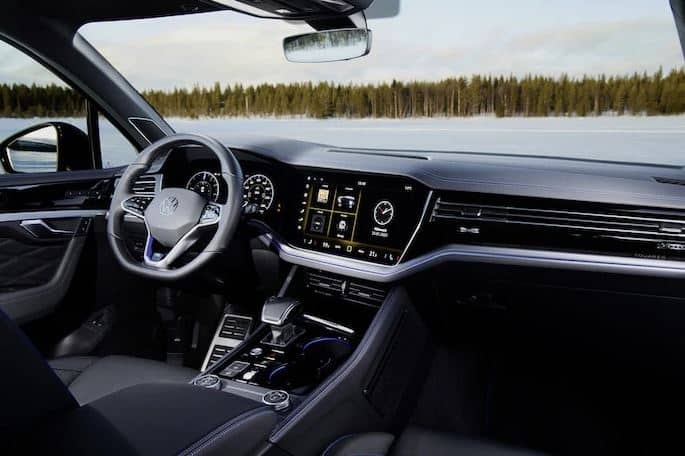 Du kan finde flere detaljer om den nye Volkswagen Touareg SUV hos Volkswagen via linket nedenfor, bilen lanceres til sommer.

Kilde & Billederettigheder: VW