Udover at annoncere den officielle lancering af Surface Pro 9 designet til "real-life multitasking", har Microsoft også annonceret seneste generation Surface Laptop 5 drevet af 12. generations Intel Core-processorer. Leveres præinstalleret med nyeste Windows 11 og udstyret med en touchscreen-skærm, er Surface Laptop 5 tilgængelig i en række forskelige størrelser og farver. Surface Laptop 5's 3:2 PixelSense-skærm, tilbyder brugere op til 17 timers batterilevetid på en enkelt opladning, og er gjort tilgængelig i enten 13,5 tommer eller 15 tommer.
Læs også: Windows 11: Optimer hastigheden på din SSD
"Seven years ago, we applied our learnings and experiences from Surface Pro to a more conventional device category, the laptop. Almost immediately, Surface Laptop became our most loved Surface. In the years since, it's continued to earn this position. Whether creating, communicating or connecting, people delight in how Surface Laptop helps them immediately get into their flow. From the effortless opening and fast log-in with Windows Hello, to the touchscreen, precision touchpad and perfect typing experience, Surface Laptop 5 offers the craftsmanship, comfort and capabilities to jump in and produce your best work."
Microsoft Surface Laptop 5
"Surface Laptop 5 is sleek and elegant, providing all-day battery life4 as our customers have come to appreciate and expect. It now offers the latest 12th Gen Intel Core processor, Thunderbolt 4 and is co-engineered and verified as an Intel Evo device for the first time, making the latest laptop over 50% more powerful than its predecessor."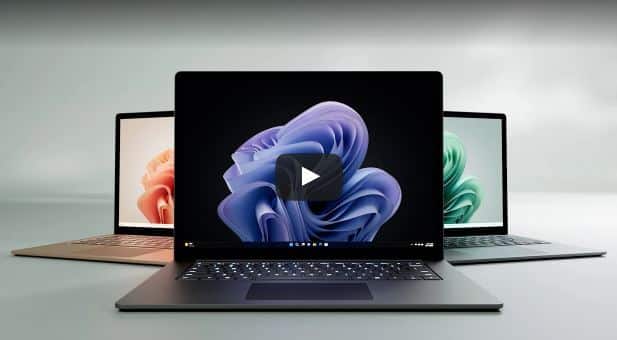 "The speakers are perfectly tuned and offer Dolby Atmos 3D spatial processing6 to fully immerse you in your content. The front-facing HD camera and Studio Microphones capture you in true-to-life fashion, even adjusting camera exposure in any lighting environment."
For flere detaljer om den nye hardware, der blev afsløret af Microsoft i denne uge, besøg den officielle Windows-blog ved at følge linket nedenfor.
Kilde & Billedrettigheder: Microsoft