Brabus har afsløret sin seneste limited edition motorcykel, Brabus 1300 R Edition 23, produktionen vil være begrænset til kun 145 enheder.
Brabus 1300 R kommer i to farver, Superblack og Stealth Grey, og motorcyklen er udstyret med en 1.301 cm³ V-twin-motor, der yder 180 hk ved 9.500 o/min og 140 Nm drejningsmoment ved 8.000 o/min.
The BRABUS 1300 R Edition 23 is luxurious design, BRABUS typical attention to detail and ultra-limited exclusivity. Conceptualized to make a statement and merge pure, luxury infused energy with undaunted Naked bike precision, the new Edition 23 represents the very best of both brands in its aggressively elegant looks, functionality and power.
Læs også: Brabus P 900 Rocket Edition afsløret
Returning and enhanced highlight ingredients of the BRABUS design DNA including two legacy paint schemes, forged BRABUS Monoblock Z wheels, high-end carbon body elements and a stylish bespoke seat, treated with expert attention to detail by the BRABUS interior specialists in Bottrop, Germany, define the motorbike's exceedingly unique and sporty character while ensuring an instant 1-Second-Wow factor.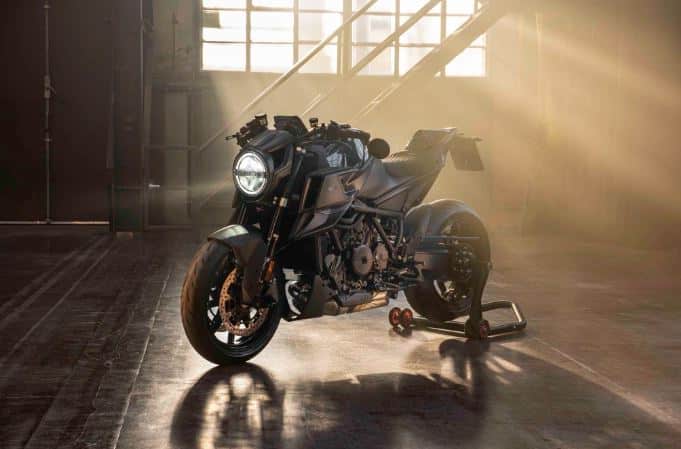 The platform of the BRABUS 1300 R Edition 23 remains the KTM 1290 SUPER DUKE R EVO. Built for the best in two-wheel performance, this model offers a cutting-edge riding experience, uncompromising ergonomics and the Edition 23's beating heart: an exceptional LC8 V-Twin engine producing 132 kW / 180 hp at 9,500 rpm and 140 Nm of torque at 8,000 rpm out of its 1,301 cubic centimeters. The BRABUS dual-pipe slip-on exhaust underscores its unmistakable character as well as its massive sound.
Du kan finde flere detaljer om den nye Brabus 1300 R Edition 23 på Brabus hjemmeside via linket nedenfor.

Kilde & Billederettigheder: Brabus